5 Problems Homeowners Face When Selling On Their Own
Posted by Joseph Sisneros on Wednesday, May 12, 2021 at 10:24 AM
By Joseph Sisneros / May 12, 2021
Comment
FSBO or For Sale By Owner, is just one of the many ways real estate can be sold and each way does pose its own challenges and problems. Of course, a real estate agent is going to tell you that selling a home by yourself is a terrible idea, but why? Are there really drawbacks to selling home yourself? In these great real estate markets, why wouldn't you sell a home yourself?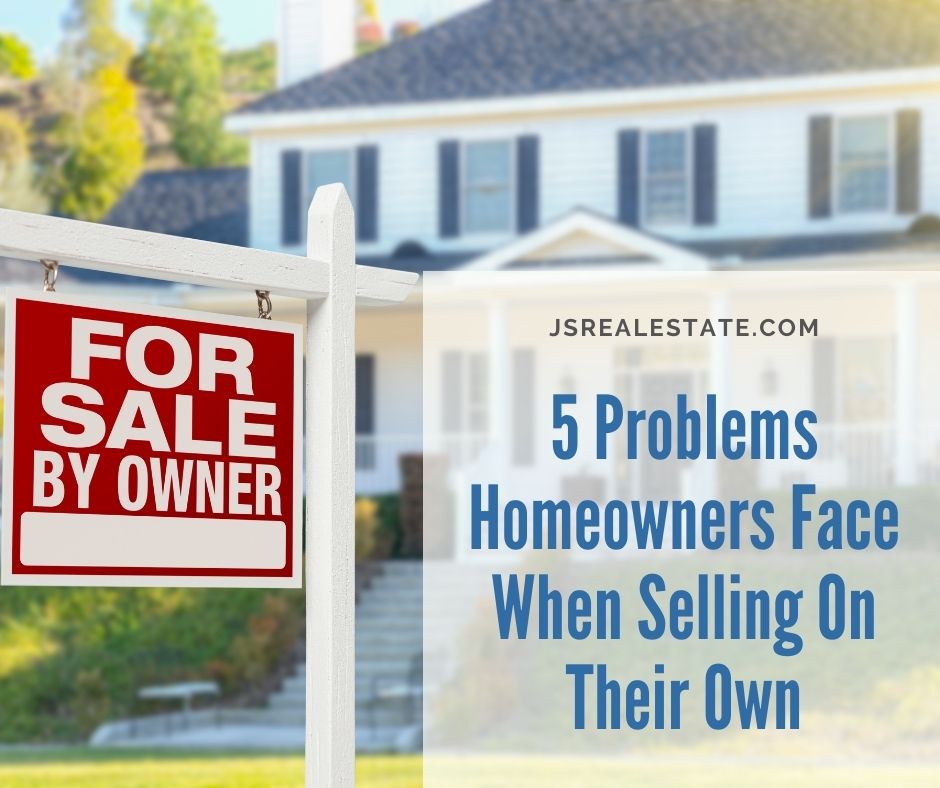 Let's dig deep into really what's going on when a homeowner decides to sell their home by themselves. Here are five problems homeowners can face when selling a home themselves.
#1. You probably won't save any money.
Both buyers and sellers believe that they should get the money that would normally have gone to an agents commission, which can be a major obstacle in negotiations. But when you have two people working without an agent, other situations can arise. For instance, let's say a homeowner decides to sell their property themselves to save Real Estate Commission. But, if a buyer comes along, they know that that homeowner is not paying a commission so the buyer may believe that without a commission to be paid, the price should be discounted. These types of buyers are always looking for a deal. And in the end, FSBOs often sell for far less than had they used a real estate agent. Statistics show that FSBOs lose about 16% of the actual sales price whereas the commission is about six or 7%.
#2. Sellers take on all the liability.
Unless you've been a real estate agent in the past or you are well versed with the process, the paperwork alone and legal jargon can be daunting and confusing. Real estate agents and brokers pay for insurance from mistakes that could potentially happen. But a seller that doesn't have the representation of a licensed agent can pay for the mistakes themselves and attorneys in a real estate transaction or dispute can be very costly.
#3. Paperwork is long and confusing.
I'm not trying to be condescending, but real estate paperwork is typically drawn up in legal jargon appropriate for negotiations and upheld in court. According to the National Association of Realtors, homebuyers and sellers both admitted to understanding paperwork was one of the most difficult tasks in a real estate transaction. So, if you're undertaking the process all by yourself, all of the paperwork needs to be clearly understood by both buyer and seller. You want to protect yourself and if you don't understand everything you're signing or if you miss some paperwork, you could find yourself in a world of hurt down the line.
#4. Inspections can be costly.
Homeowners and sellers that don't understand the rules with inspections can get stuck with unnecessary and costly repairs. If things are not done up to code, permits were not pulled, or if the buyer requests outlandish items, it could be a nightmare trying to negotiate not understanding your rights and the choices you have as a seller. A real estate professional can help navigate the inspection reports and any other contingencies that a buyer might present.
#5. Marketing is limited.
There are a lot of discount brokers out there that can agree to list your property on the local MLS, but nothing beats the sphere of influence and general connections a network that a licensed real estate agent, especially a seasoned one, can bring to the table. With proper marketing, both online and in print, in-person to other agents, or even to their own set of buyers, the home is likely to get in front of more buyers with more offers on the table and potentially higher prices.
This is just a quick list of why FSBOs are generally not a good idea. Most homeowners don't save any money and can potentially lose quite a bit of dollars in the long run. It's the stress, hassle, confusion, paperwork, and marketing that all can add to the frustration of selling a home yourself.
JS Real Estate would like to offer you a free listing presentation to tell you how we would market your home, what your home is currently worth, and how to go about selling it quickly for as much profit as possible. Feel free to contact us below at any time.