7 Ways Home Buyers Can Save For a Larger Down Payment
Posted by Joseph Sisneros on Tuesday, July 6, 2021 at 3:28 PM
By Joseph Sisneros / July 6, 2021
Comment
Raising enough down payment to buy a house might feel like a gigantic financial mountain to climb if you are not aware of some strategies to boost your finances. A Federal Housing Administration loan requires a minimum of 3.5% down payment. If you put down less than 20% of the total purchase price, then you will be attracting private mortgage insurance on conventional loans.
For this reason, every potential home buyer should strive to raise a down payment of more than 20% to pay a lower interest rate. Here, we have analyzed seven effective methods that will help you save a larger down payment intelligently.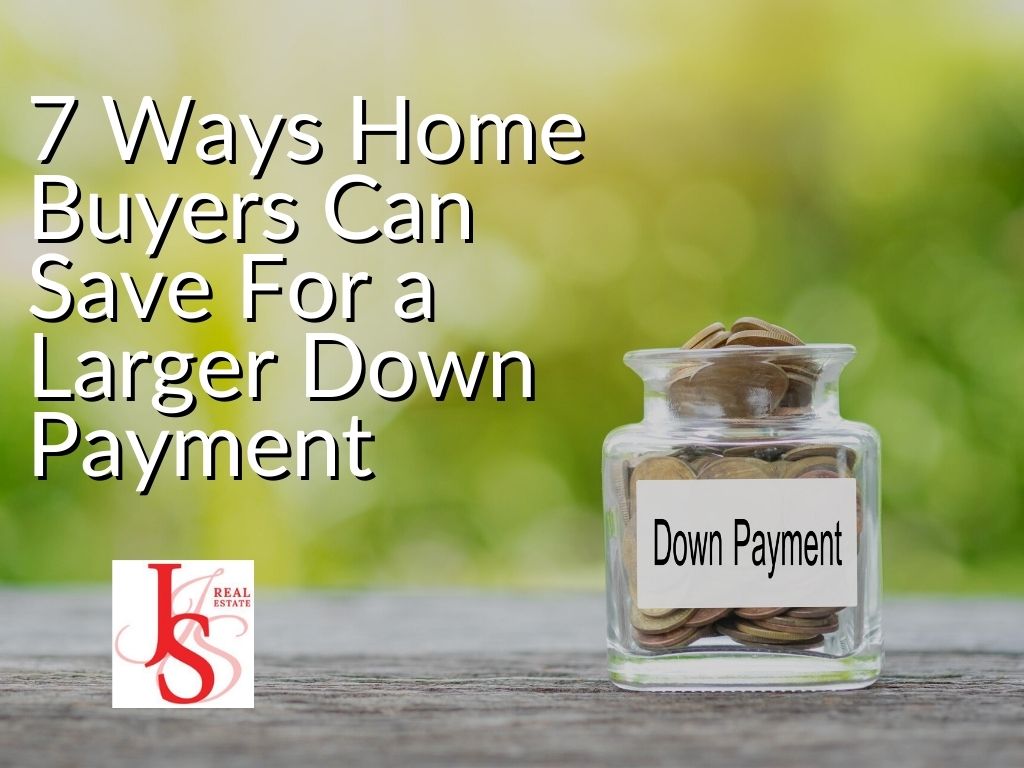 Create a monthly budget and automate payments to savings
After coming up with down payment goals, you should develop a budget that defines what amount you put into your savings account. When drawing a budget, make sure you make savings easier than spending. That is, you should advocate for zero fun, reduce luxuries and purchase fewer items.
The last thing you can do is set up an automatic savings account that will automatically credit the set amount to your savings account. You can consider using micro-savings apps like Acorns or Digi.
Find a side hustle
A side hustle is a second job other than your primary job. A side hustle can be anything you like doing. It could be some part-time employment with your local department store, or even you can resort to selling some items in an online marketplace. Let your mind free reign to unlock your possibilities of side hustle.
Your current home or rental unit could be spacious to some extent of having an extra room. It will be better for you if you downsize for a short time by dealing with a roommate. If you pay $300 less a month, it will turn $3600 - a more prominent significant figure at the end of a year.
Related: Is Making a 20% Down Payment Really Beneficial?
Sell the things you do not need
You could be having assets in your house that does not have any utility. Creating a Craigslist will enable you to sell your unused items. This will build you more savings and help reduce the money you could use in relocating those items to your new home.
Consider a Certificate of Deposit (CD)
A CD is a deposit where you cannot touch your money until it matures. CDs will vary from months to years, and therefore, you should choose one that will align with your timeline. The good thing with CDs is that you can kickstart with any amount you have at hand or any that is not invested.
Open a high yielding savings account
High-yielding savings accounts are accounts that will reward you with excellent returns when you save. Though you might not be getting enough, at least you will be getting some amount to help you fill a dent in your down payment.
Scale back your retirement savings
If your saving timeline is short, then you could be left with an option to divert a fraction of your retirement money to your down payment fund. This is, however, a bad idea if you are doing it for the long term. You should, nonetheless, not forget to crank up after you are done saving for a down payment.
Conclusion
There is no specific magic formula to raise large down payments for purchasing a home. This is definitely because everyone's financial situation differs. Using the few tips above, you will merit your big down payment goals early enough and possibly move to your new home faster. Above all, you will pay low interest rates.
Ready to Get in Touch with a Local Phoenix Area Lender? Contact Us Below
Check out our Featured Listings
View all Area Listings Now