Coffee Shops to Try in Scottsdale
Posted by Joseph Sisneros on Wednesday, October 12, 2022 at 4:17 PM
By Joseph Sisneros / October 12, 2022
Comment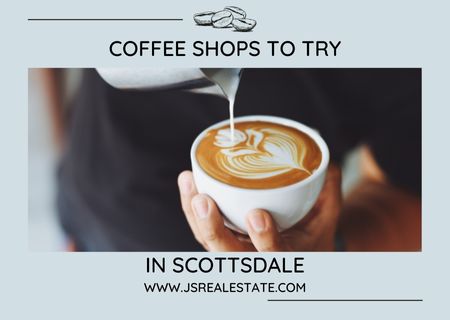 It's no secret that Scottsdale is one of the best places to live in Arizona, with gorgeous homes, abundant amenities, excellent schools, and plenty to do. Whatever you're looking for, you will find it in Scottsdale.
Looking for a new coffee shop to try this weekend in Scottsdale? Consider one of these five favorites, each featuring their own unique personalities and perks.
Berdena's
Located in the heart of Old Town Scottsdale, Berdena's is known for their delicately flavored lattes, crafted with house made syrups, and their award winning avocado toast. Tea drinkers also love Berdena's where they can find an excellent selection of gourmet loose leaf teas.
You may have a tough time deciding between their amazing espresso drinks, with signature drinks like the honey lavender cappuccino or cardamom rose latte. You can also select from a seasonal menu, with offerings like winter spice or pumpkin spice lattes.
Don't forget to order a bite to eat, like the avocado toast the Phoenix New Times calls the best in the city or any of their freshly baked pastries. Enjoy your selections to go, inside, or out on the sunny patio.
Schmooze Workspace and Cafe
Looking for a place to enjoy a handcrafted latte while you get some work done? Try Schmooze Workspace and Cafe. The coffee shop was designed as a shared workspace, perfect for the growing number of Arizonians who work remotely. This is also the perfect place to set up a meeting with a colleague or client if you prefer not to meet in the home office.
The spacious indoor area has plenty of workspace and outlets, and the outdoor space is peacefully designed with lush greenery and serene fountains. You can even rent a private room for a meeting or conference.
And don't forget the coffee itself! Schmooze offers a full menu of espresso drinks, as well as nitro cold brew, pour over coffees, small bites to eat, a full breakfast and lunch menu, and a full bar in the later hours of the day. Your home office just got a major upgrade.
Cartel Coffee Lab
Stop by Cartel Coffee Lab, a hip coffee shop known in the area for roasting their own beans. You may have already tried their locally roasted coffee at one of your favorite local restaurants, coffee shops, or hotels. With a relaxed, industrial vibe, Cartel is a favorite for students and those looking to set up a home-away-from-home office for the day.
Try their cold brew with a homemade snickerdoodle for an absolutely irresistible pick me up. If you love the coffee, you can even set up a subscription to get a freshly roasted pound of beans delivered to you each week.
Press Coffee Roasters
With two Scottsdale locations, Press Coffee Roasters offers some of the best locally roasted beans in the city. They even offer Coffee 101 classes for those interested in learning more about how the best coffee is roasted, ground, prepared, and served.
Whether you are there to learn all about coffee, grab a bag of beans to bring home, or order a delicious drink, you won't be disappointed by Press. Stop by to find out why they consistently win so many regional and national awards.
Want to learn more about living in Scottsdale? We can help. Contact us any time!