Designing an Arizona-Friendly Backyard
Posted by Joe Sisneros on Friday, July 22, 2022 at 4:05 PM
By Joe Sisneros / July 22, 2022
Comment
Arizona offers some of the most abundant heat and sunshine of any state in the nation, with the opportunity to be outside any month of the year without needing any winter gear. This is just one of many reasons people love to live in and retire to Arizona.
If you are looking to renovate or design your backyard, coming up with an Arizona-friendly backyard design is essential. With extra heat and dry desert air to work with, you can make your backyard the place you want to be all year long by keeping these design tips in mind.
1. Incorporate water
One of the primary reasons people don't use their outdoor spaces in Arizona is the heat. While it is one of the best things about living here, it can also be one of the worst if you are not prepared to handle it.
Incorporate water into your backyard design, in multiple ways if possible, to provide ways to beat the heat. Some of the best ways to do this include:
Swimming pools
Misters under patio covers
Splash pads
Fountains
If you don't have the space for a large swimming pool, don't worry. Many backyard designs incorporate a small pool or an alternative like a kids' splash pad area or water resistant seating under shade and mist.
2. Prioritize low water plants
As you plan your gardens, pay careful attention to how much water you will require. The plants that thrive most in Arizona are native plants that are consistent with desert landscape design. Think succulents, bougainvillea, cacti, and ornamental grasses.
3. Provide shade
Shade is essential in any Arizona backyard design. One of the best ways to provide shade while adding value to your home is a built in patio cover. A patio cover can even be equipped with lighting, ceiling fans, and misters to make it a space that feels like an extension of your home.
If a patio cover build isn't in the budget for your design, don't worry. There are plenty of other ways to provide shade for a fraction of the expense and effort, including:
Canvas shades
Tall, drought-tolerant plants along the perimeter
Patio umbrellas
Gazebos
4. Connect your interior and exterior design aesthetics
To make your backyard feel high end, and to make sure you want to spend time in it, work to design it in such a way that feels cohesive with your interior design. Carry similar styles and color palettes throughout to make a seamless transition from inside to outside.
Find patio seating cushions and pillows that complement your interior design, and make sure your hardscape selections make sense with your interior finishes. By keeping a consistent design aesthetic inside and out, the move from inside to outside will make perfect sense. This is also a great way to make your home more appealing when the time comes to sell it.
5. Make the space adaptable for all seasons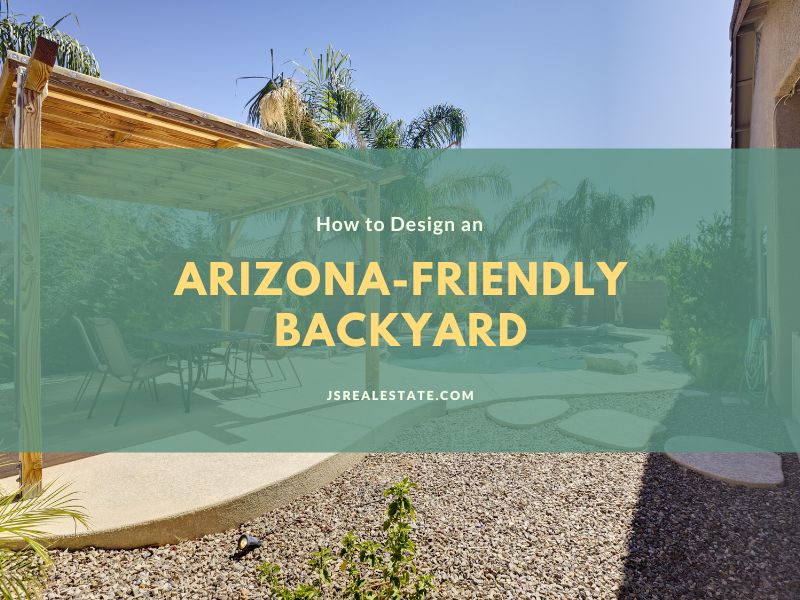 Living in Arizona, you can enjoy your backyard 12 months out of the year. Keep all seasons in mind when you make your design plans. While many months offer triple digits each day, making shade and water essential, during the winter you may want a way to warm up a bit.
Incorporate a fire pit or fire place into the design to make this a place you want to be during the winter, too. During the more mild temperatures in the summer and fall, you may find your backyard to be the perfect place to read a book or sip your coffee. Set up a hammock or comfortable seating area to make your backyard an extension of your living space.
Still looking for that perfect Arizona home? We can help. Contact us today to get started on the search for your ideal property.