How to Move to a Big City on a Small Budget
Posted by Joseph Sisneros on Saturday, March 19, 2022 at 10:29 AM
By Joseph Sisneros / March 19, 2022
Comment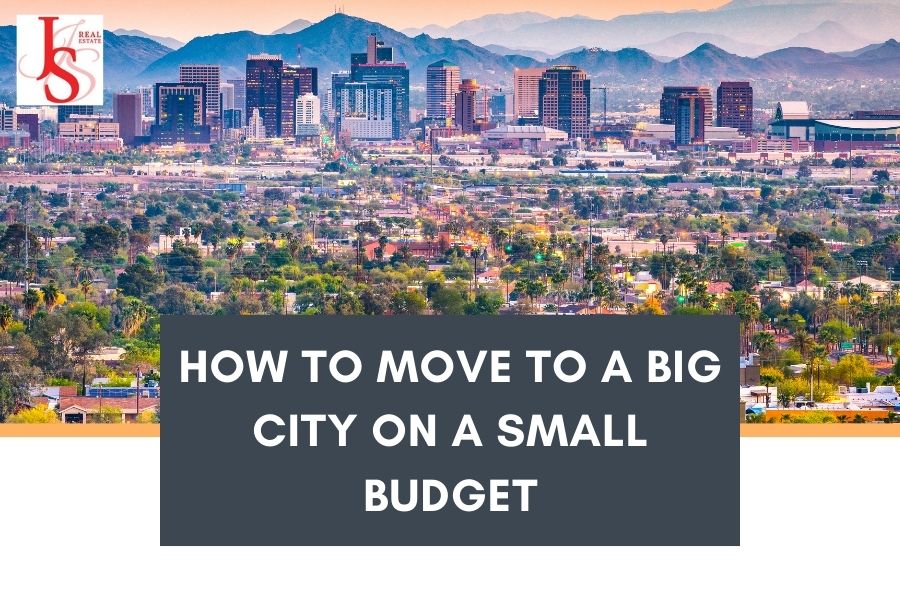 Phoenix is a big city, that's no joke. Phoenix and the metro area is one of the largest cities in the US and is one of the fastest-growing as well. If you are moving to Arizona from anywhere other than major metropolitan areas like San Diego, Seattle, Chicago or New York, you might be in for a big sticker shock. Prices here are high, but that doesn't mean that you can't find something affordable.
There are simple ways that you can plan your budget and prepare yourself for moving to a large city. Remember, everything will be relative including general living expenses. But that also means that you might find a better-paying job that you currently have depending on where you are relocating from. Living expenses, utilities, insurance, rent or mortgage payment will all be a little bit more expensive in larger cities.
Here are some simple ways to plan your budget and manage your finances if you're moving from a smaller town to a big city like Phoenix.
Create your moving budget. You should have a good idea about how much it's going to cost to get to your new location. Are you renting a truck? Consider gas, insurance, boxes and other moving supplies as well as traveling expenses depending on how far away are coming from. Write all of these numbers down to try to get yourself into a good budget to save for these expenses when they come.
Clean out. Consider cleaning out all of the items that you don't need when you live in your new location. Will you be moving from a cold location to the Phoenix area? You probably don't need a lot of winter coats or cold season items. This is a great time to sell or donate what you're not going to take with you in order to save money and space.
Connect with a local real estate agent. If you're planning on buying, the first thing that you can do is connect with a local real estate agent. Because we work in the area including outlying areas such as Tempe, Scottsdale and Fountain Hills, we can help hone in on the right neighborhood for your needs and your budget. You might not need a lavish downtown condominium but a smaller, outlying single-family home might work perfectly for your needs. Talk to your real estate agent about your budget and what you are looking for and they can help point you in the right direction. Because you don't know the area and you may not be familiar with the neighborhoods, it helps to have a local expert on your side.
Consider a visit before moving here. Now, this might seem silly because you've probably already been here if you're planning on moving but that's not the case for everyone. Perhaps you are being relocated due to a job and you've never actually been to the Phoenix area. It can be a huge advantage to visit beforehand. You can check out the neighborhoods, get a good sense of the local market, and talk to your real estate agent about the best place for you to be.
Be cautious of hidden moving fees. If you use a moving company they will tack on a lot of different fees such as moving insurance, packing supplies, and long carry fees, which can incur wood trucks cannot park close to the home in order to unload. This is primarily the case in downtown areas such as for condominiums so check those hidden fees for any additional costs.
Get free packing supplies. You might be surprised as to how many people are giving away boxes on advertising sites such as let go, offer up, and Craigslist. You can put a search out on social media to look for packing supplies or free boxes, which people who have just moved are very thankful to get rid of.
Consider mailing heavy items. The US Postal Service media mail can ship items like books and DVDs for very inexpensive prices. Boxes weighing as much is 70 pounds could cost just $36 to ship. This service is especially helpful considering books are some of the heaviest items that people move.[Source]
Keep all of your receipts. Sometimes moving can be tax-deductible and there are certain restrictions and conditions that can apply but many expenses can be deductible so it's important to hang onto all of your receipts that you get including any traveling receipts to and from your new destination.
Related Post: 10 Things to Do as a New Homeowner - external
Moving can be stressful but as long as you have someone on your side in the big city then you can really benefit from their knowledge, expertise, and skills in buying and living in that city. Contact me any day for information on moving to Phoenix, Scottsdale and other metro areas. Because I have lived here most of my life and have a firm understanding of the micro markets throughout the area, I can help you find the right home at the right price.