Special Events in Tempe
Posted by Joseph Sisneros on Tuesday, August 2, 2022 at 5:18 PM
By Joseph Sisneros / August 2, 2022
Comment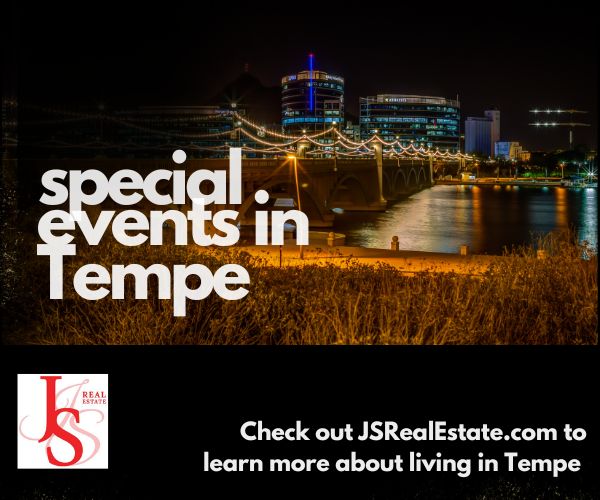 Tempe is one of the best places to live in Arizona, with access to great schools, diverse housing choices, excellent restaurants, and plenty to do. In addition to a wide selection of restaurants and nightlife to enjoy, there seems to always be a special event around the corner in Tempe, no matter what time of year it is.
Get some of these memorable events on your calendar by checking out our list of some of the best special events in Tempe.
Park After Dark
All summer long, Downtown Tempe host Park After Dark. Relax with your neighbors on the 2nd and 4th Saturday evening of each month, with live musical entertainment from local artists, other outdoor entertainment, and cold drinks and the wine and beer garden.
When you're looking for a perfect date night, this is it. Free and open to the public, and the perfect place to connect whether you've been married for decades or you are planning a first date.
Fantasy of Lights Street Parade + Tree Lighting
Kicking off the holiday season each year, the Fantasy of Lights Street Parade + Tree Lighting is a favorite local event where guests enjoy a parade, tree lighting ceremony, holiday market, live entertainment, Santa photos, and more. This family friendly event is sure to get you in the festive holiday spirit!
Fantasy of Light Boat Parade
The Valley's most unique holiday event is the Fantasy of Lights Boat Parade. A boat parade of watercraft covered in dazzling holiday lights provides the main event, in addition to live music, festive food and drink vendors, holiday shopping, and even a massive fireworks display to end the night. This is a family friendly event that might become one of your treasured holiday traditions.
Tempe Festival of the Arts
The Tempe Festival of the Arts takes place each fall and often ranks among the best arts festivals in the nation. Each year after receiving over 1,000 applications, a selection of artists are chosen to be featured.
Selected artists are divided into 18 different artistic categories for judging, ranging from woodwork to photography to ceramics and even wearable art. There are over 300 artist booths lining Mill Avenue and the surrounding streets, all presenting unique, hand-made artwork for a memorable shopping experience.
In addition to art exhibits and art pieces that are for sale, festival goers enjoy live music and entertainment that keeps the atmosphere full of energy.
Foodie FriYAYs
Every Friday night during the month of May at Tempe Beach Park, residents enjoy a rotation of food trucks and live music for the perfect night out at Foodie FriYays.
The event is family friendly and dog friendly, and admission is free. Choose from a variety of food trucks, including some offering beer and wine, for a foodie's dream version of an outdoor food court.
Picnic blankets and games are available to rent to complete the perfect ambience. This is the perfect place to unwind after a long week, spend a family night outside, or meet up for a blind date!
Juneteenth Celebration
On June 19th in Downtown Tempe, the city takes the day to celebrate Juneteenth. Don't miss out on the vibrant cultural celebration of freedom, featuring live music, food and drinks, dancing, historical exploration, and more. This event is free and open to the public, perfect for Tempe residents of all ages.
Want to learn more about living in Tempe? We'd love to answer your questions and help you find your ideal home here in one of the best cities in Arizona.