Why a 20% Down Payment is Best
Posted by Joe Sisneros on Wednesday, August 25, 2021 at 1:15 PM
By Joe Sisneros / August 25, 2021
Comment
If you're currently trying to buy a home, you may be wondering how much of a down payment you need. While there is no simple answer to tell you what you should do when purchasing a home, as each situation is unique, there are many reasons why a 20% down payment is generally the "best" option when home buying.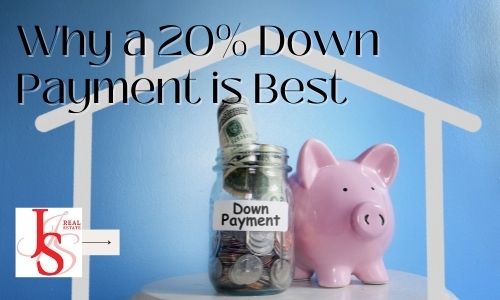 While there are many benefits to using a larger down payment there are 3 that seem to stick out among the rest. It is important to remember that there are other options out there if a 20% down payment is not affordable for you or your situation.
#1 PMI Is Not Required
PMI, also known as private mortgage insurance, is required on all loans that have anything less than 20% of loan-to-value. PMI generally costs anywhere between 0.5%-1% of the loan amount per year. For example:
Loan amount: $400,000
0.5% of Loan: $2,000/12 = $166.67
1% of Loan: $4,000/12 = $333.33
This means that you could be paying anywhere between $166-333 per month in addition to your regular mortgage amount if you choose to do a down payment of anything less than 20% of the purchase price.
#2 Less to Finance
Everyone loves to save money, and when putting a minimum of 20% down you are financing far less than if you were to opt for less of a down payment amount. By dropping the amount you will finance you are not only in less debt, but you are also saving monthly on your mortgage statement.
#3 Better Financing Options/More Inventory
The larger your down payment, generally the better financing options you can secure, however, this may depend on the lender that you choose to work with. Another huge perk, once you've secured your financing options, is that by using a larger down payment you may end up opening up more options within the housing market. Financing less by using a larger down payment could allow you to have a higher budget in some cases, and thus, allow you to view more purchase options.
While there are many benefits to putting 20% down on a house, you have to decide if that is a good option for you financially. While you will eliminate PMI by doing so, you don't want to put yourself in too tight of a spot when purchasing a home. So, if a smaller down payment is better for your situation, don't feel pressured to do more than you are comfortable with. Discuss your options in-depth with your lender and weigh all of the options available to you.
If you're currently searching for a new home, are ready to sell your home, or if you have any questions regarding Scottsdale real estate, Phoenix homes or Tempa properties please feel free to contact our office at any time.
Start Your PreApproval Process Now