Golf Course Homes in Phoenix Metro Area
Did you know that the Phoenix Metro area has literally hundreds of golf course communities? And why not? Arizona is known for its fantastic golf. There were over 200 golf courses in the greater Phoenix area meaning there's probably a course to fit your game.
If you love golf and want to be close to the course, there's no better place than a home directly on the golf course.
Here you will find all golf course labeled and listed homes for sale in the Phoenix Metro area. This includes golf course homes in Scottsdale, homes on the golf course in Mesa, Tempe golf course homes, Gilbert golf community homes, golf community homes in Chandler, and all surrounding communities, villages, and towns throughout the greater Phoenix Metro area. Start your online search here or simply contact me at the bottom of the list with exactly what it is you're looking for and I can send you a personalized list of golf course homes in the Phoenix Metro area that fit your search criteria and price.
Golf Course Homes in the Phoenix Metro Area
June 8, 2023
Golf Course Homes in the Phoenix Metro Area by Price
Living on the Golf Course
With about 200 golf courses in the greater Phoenix area, there's a course to fit your game and your lifestyle. There are also homes on the course and condominiums on the course. Depending on how involved you want to be with the community, how many amenities you want, and what type of maintenance you want, there is typically a home and a price range to fit your lifestyle.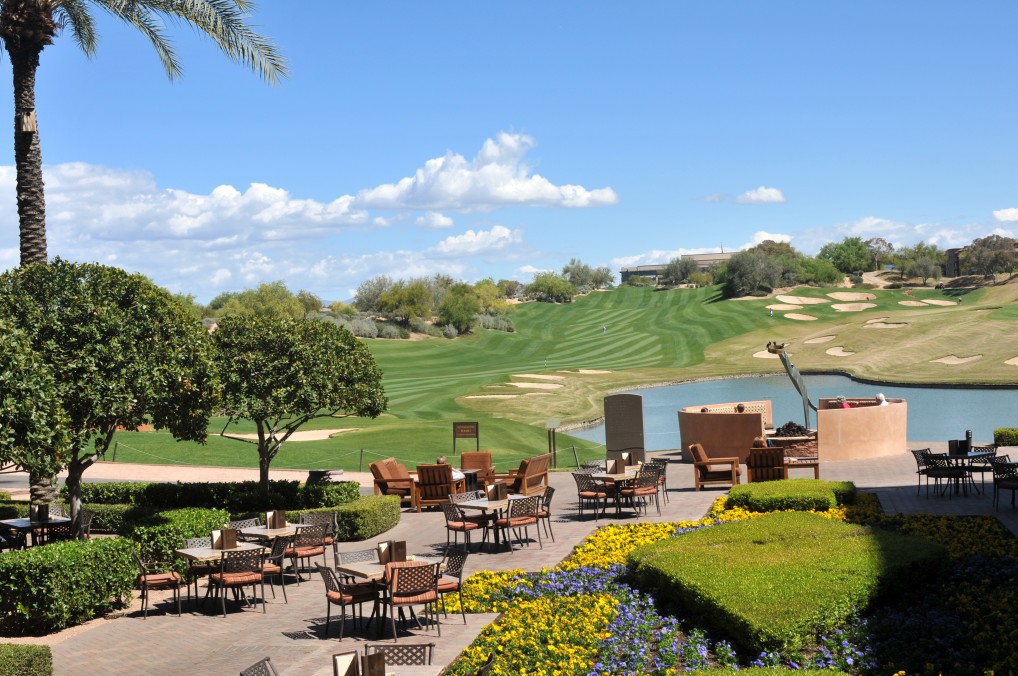 Golf courses are what makes Phoenix in the Metro area such a popular destination. There is no short supply of golf course homes in the Phoenix area. There are thousands of homes in all price ranges. For beautiful active adult golf course communities in Buckeye to over 20 in Chandler, Gilbert, and Mesa alone.
What to look for in a golf course home
You're probably buying a home on the golf course for its prestigious views, close proximity to one of your favorite sports, and resale value. While its waterfront homes in Florida, it's definitely golf course homes in the Phoenix Metro area. And of course, Phoenix is one of the perfect places for avid golfers.
Look for a property that suits your needs maintenance-wise. Do you want to condominium or villa where most of the outside maintenance is handled by the Association or would you prefer to do a little gardening yourself?
Consider resale value. Even though you're buying the home now, you may sell it in the future even if you don't think you will. Understanding resale value and how attractive the property is to future buyers is something to consider when you buy the property.
Investigate the surrounding area. Do you want a gated community? A community with a clubhouse with lots of activities? Are the homeowner association fees too high or do they match the amenities provided to you? Are you close to medical facilities, stores, restaurants, and things you enjoy?
Is privacy a concern? Buying a home directly on the course means you might see a lot of people walking the fairways right in your backyard. This may or may not be of concern. Then of course, there's the issue of the balls. Demand up with a ball or two in your backyard or even one through your window occasionally even though most golf courses are set up so that no one is shooting directly toward home.
Talk to the owners. Visit a few of your potential neighbors and ask how they like living in the community. Are there any concerns with the Association? Concerns with the type of golf course or rules? Ask about additional fees and how members relate to the board and other members.
Golf carts. Golf carts are usually a saying in golf communities and they do make a little bit of noise so that may or may not be of concern.
Ask about how much it cost for a round of golf at the course you're thinking about buying on. Compared to the price of the house, there should be a logical ratio between the two. If a round of golf goes for about $25 and how sells for over $200,000, the property value is probably inflated. If the golf course is private, check on the inflation and monthly fees versus the prices of homes. If you are confused about this, simply ask your real estate agent to find out if the fees come privacy, and home prices match up.
If you're ready to start looking at golf course homes in the Phoenix Metro area, contact my office at any time. Browse all available listings or narrow down your search to a city or community. All golf course homes in Phoenix, Tempe, Chandler, Gilbert, Scottsdale, and surrounding areas today.
Contact RE/MAX Elite for Golf Course Properties