Phoenix Homes for Sale
Welcome to the Phoenix Real Estate Market
Browse all homes for sale in the Phoenix real estate market and contact us at any time for expert real estate representation for all your home purchases. Read on below the listings to learn more about relocating to the Phoenix area and what it's like to live here.
Included below are homes for sale in Phoenix. If you would like more information on any of these Phoenix real estate listings, just click the "Request More Information" button when viewing the details of that property. We can provide you with disclosures, past sales history, dates and prices of homes recently sold nearby, and more.
And, if you haven't already, be sure to register for a free account so that you can receive email alerts whenever new Phoenix listings come on the market.
Relocating to Phoenix
So, you decided to relocate to Phoenix. Or, maybe you haven't quite made the decision yet but you are weighing your options and learning a little bit about the area. Whether it's Phoenix, Scottsdale, Tempe, Mesa, Gilbert, or any of the major cities around the Phoenix Metro area, the overall atmosphere is the same but, Phoenix does set itself apart with some specifics. If you're looking to move within the city limits of Phoenix, here are some things to know.
What to know before moving to Phoenix
Phoenix has a thriving tech scene.
Move inside Silicon Valley. You're not the only big player in the pond. Phoenix, known as the Valley of the Son, attracts plenty of tech startups, headquarters, and technology operations and companies. For big Silicon Valley companies that want to expand their operations, many have chosen the Phoenix area and this has created a wealth of jobs in the tech community and the economy has certainly benefited from it as well.
We have stupid ridiculous Mexican food.
Forget Tex-Mex. Phoenix has the bomb Mexican food. Our city's diverse population offers a vibrant restaurant scene. If you're missing some authentic tacos, deep-fried chili Relleno, and tamales, you won't miss it in Phoenix.
Phoenix has an impressive arts and cultural scene.
Forget strip malls and urban sprawl and think impressive museums, performing arts venues, and theaters. The Phoenix Art Museum, the Arizona Science Museum, and the Herd Museum are just a few of our favorites. But the theaters, cultural arts scene, and galleries will keep you entertained for a while.
Be aware of the wildlife.
This is all subjective and it could be a pro or con. The urban wildlife in Phoenix is either perilous or a perk of living here. You'll find unique wildlife such as bobcats and coyotes, snakes, turtles, toads, and a range of all types of colorful birds that make life in Phoenix a little but more exciting. However, we do also have a few dangerous elements as well such as rattlesnakes so it's important to be aware of these outdoor critters to keep you and your family safe.
We are diverse.
We are just three hours from the Mexican border so naturally, we are a very diverse community. From snowbirds and retirees to college-age students and families. You'll find a diverse collection of nationalities, age groups, and orientations.
Beware the weather… Or enjoy it!
You knew this was coming; yes, it gets hot here. Very hot, and yes, it is a dry heat but sometimes our summers can get up 115°F, which is quite toasty, but everything is air-conditioned so you're never far away from cooling off. Plus, we have plenty of pools to really refresh your soul, spirit, and body. However, our winters are quite comfortable. The overall temperatures in December through February are in the upper 60s to low 70s with the lows around the mid-40°. This is quite comfortable for most of us. There is a monsoon season. While we don't get a lot of rainfall, we do have a monsoon season each year. You'll experience high winds, amazing rainstorms, possible blowing dust and flash flooding can all be possibilities during the season. It usually happens in the later summer months and most of us expected and are prepared.
You can forget about daylight savings time.
That's right! Phoenix is on Mountain Standard Time but we don't observe daylight savings time so you never have to worry about that when you travel around except for the Navajo Nation, they're the only ones that participate in daylight savings time but if you hate the spring forward and fall back each year, you won't need to worry about that in Phoenix or Arizona as a whole, but it is something to remember if you are traveling outside the state.
You probably won't get lost.
Phoenix is known for being one of the easiest cities in the country to navigate. Nearly all the streets are fixed to a clear north, south, east, west grid. If you get a little lost, just look for South Mountain, which runs across the south side of town. From there, you can orientate yourself fairly easily.
We do feel like we're on vacation year-round.
The Phoenix Valley is home to some of the best resorts in the country. We have some of the best golf courses, dining options, and world-class spas around and even if you choose a community that doesn't have its own amenities, you're not that far away from some public options.
Don't get used to a green lawn.
This is definitely not the rain belt. Rock yards and rock gardens are the norm in this area. We're very water conscious living in the desert and green lawns just take a lot of work. But gravel yards are pretty common and can be extremely low maintenance catering to the native wildlife, flora, and fauna of the area. Embrace the rocks, embrace the cactus, and enjoy your yard that's probably different than what you're used to.
Is Phoenix a nice place to live?
Phoenix has been known as a great place to live. It's a bustling city in the middle of the desert and while it gets hot, we have a lot of ways to cool off. If you love the sunshine, warm weather, vacation year-round, and lower cost of living, Phoenix makes a great place to call home.
Reasons to move to Phoenix
Phoenix is ideal for retirees who live on a fixed income. Phoenix has a reasonable cost of living balanced with a number of amenities. However, we also have great schools, excellent job opportunities, and a variety of housing options from single-family homes to gated communities, high-end luxury properties, estates, active adult communities, condominiums, and townhouses.
What do Locals Have to Say?
"Phoenix is a wonderful city! Until the past few decades, the Valley of the Sun was a city of transplants and imported cultures. Over the years Phoenix has developed its own unique "Phoenix" culture. This is apparent when you attend First Fridays, try a local business, or go to school. The city is blessed with a diverse group of people with lofty dreams, and the passion to fulfill them. The future is bright for Phoenix, and this is thanks to our hungry spirit of entrepreneurship, creativity, and inclusivity. Opportunities in business, education, and a safe and welcoming environment for families to draw more people to move here than almost any other city in the country."

"Phoenix is famously known as the "most livable city" for good reason -- not from a place of irony, but because the community is connected, diverse and welcoming, because there is a great system of public transportation and because the city dedicates public spaces to local artists. For example, for years, the carpet of the Phoenix Sky Harbor International Airport has been decorated with designs by local artists. One cannot get on the light rail without seeing pieces by Phoenix sculptors! The city is laid out on a grid, so every place in town is easily navigable for tourists and locals alike. The city gets a bad rap for the 120-degree temperatures during the summer, but the reality is 10 out of 12 months of the year are absolutely gorgeous. Diverse in political ideologies, Phoenix provides residents with many points of view and communities to identify with. Phoenix truly is a livable and gorgeous city, perfect for everything from raising a family to pursuing a career." - Niche.com
Cost of living in Phoenix Arizona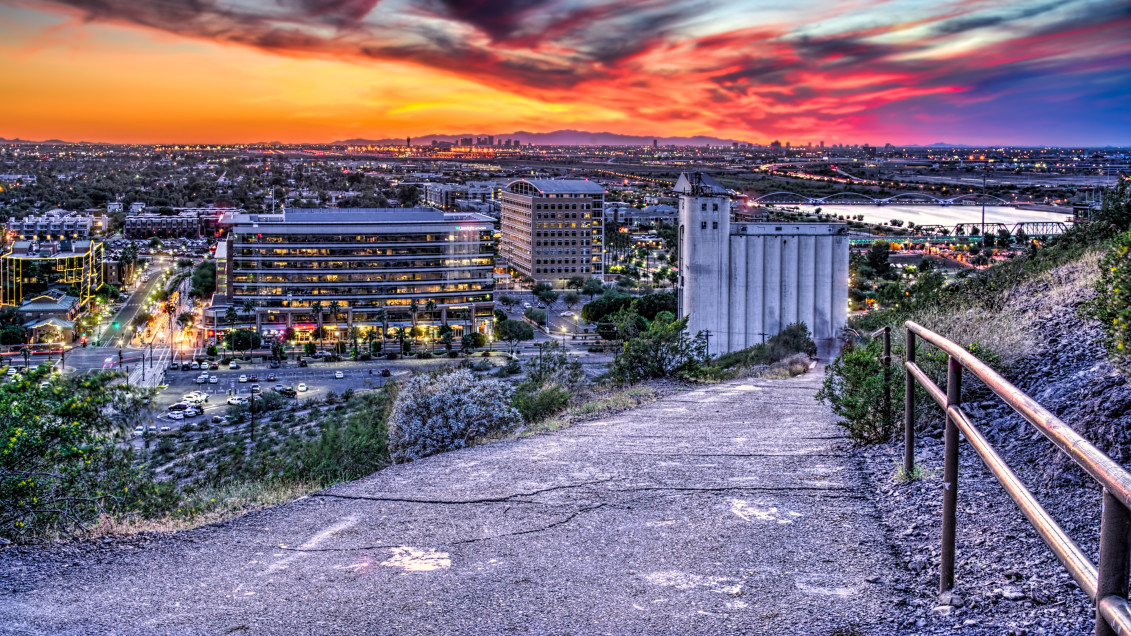 The cost of living is of course all relative depending on where you're moving from. With the standard 100 for the United States, Phoenix comes in at a 103.7 overall, but is quite low depending on a lot of other things. Groceries come in at 97, healthcare at 92, and housing at about 103, slightly higher than the national average, however, it's lower than the state average. Being in downtown Phoenix definitely skews these numbers where you can purchase in outlying areas like Mesa, Tempe, Gilbert, or Chandler and find the cost-of-living slightly lower.
Income also varies greatly. For instance, if you are making $100,000 in San Francisco, you'd only need about $53,000 in Phoenix to have the same lifestyle. If you are moving from Seattle, you'll need about $63,000 with the cost of living nearly 37% lower in Phoenix than in Seattle. If you are moving from Chicago, you need about $77,000. In New York, you'd need about $41,000 and from Los Angeles about $66,000. You can see that a lot of these major areas are a much higher cost of living than Phoenix. - Check out Payscale for more cost of living averages
Phoenix Schools
Phoenix has a variety of schools and districts all over the metro area. It has a total of 29 school districts from elementary to middle school, high school, unified, and private schools. The largest district includes the Phoenix Union district, Dear Valley Unified District, Cave Creek Unified District, Scottsdale Unified, and in the center the Paradise Valley Unified District. Within these districts are dozens of different schools zoned for different communities and neighborhoods around the Phoenix Metro area. If you're looking to be within a specific school zone or district, feel free to contact our office below with your specific search requirements and we can offer you a list of properties currently available in that area.
Phoenix Real Estate Market
You'll find a variety of homes, styles, designs, and prices. From larger estates on over 1 acre or more to low maintenance condominiums, cottage-style homes, and active adult communities, Phoenix real estate offers a variety of living options for just about anyone in any price range. The median home price for most properties in Phoenix range from $190,000-$350,000. About 54% of residents of Phoenix own their own homes, which means there are a lot of renters. The median rent is just over $1000, which is extremely affordable compared to a lot of other major metro areas across the country. Whether you're looking for a townhouse in a gated community, luxury estate up on the hill, view property, one with a lot of amenities, or your starter home, you'll find exactly what you're looking for in Phoenix. Contact our office at any time to schedule a showing of any of the current and active listings for sale or let us know that you'd like to be notified when new listings that meet your search criteria and price become available. And again… Welcome to Phoenix!